Dog License & Breed Permit
Berlin Edition
The Dog License, Dangerous Breed Permit and Exemptions.
What is the Dog License?
The Dog License (Hundeführerschein) is intended to prove a minimum level of dog-handling competency and is an official document which comes in the form of a card. Dog licenses are issued on a per-dog basis and are to be differentiated from the Dangerous Breed Permit (which requires the handler to meet certain criteria and a temperament test of the dog in question). To acquire a dog license, one must attend a dog training school and pass a multiple choice test and obedience exam with the dog for which the license is to be issued. While the dog license is optional in Berlin and most states, in Niedersachsen it is a mandatory requirement. Holding a dog license in Berlin offers your dog extra freedom in that it is allowed to be offleash in residential and low-occupancy areas.
---
Are there any exceptions?
Some dogs may be exempt from the dog license requirement, in which case another official document -  the "proof of dog-handling competency" (Sachkundenachweis) card - should be presented in its place. These cards are also issued on a per-dog basis and valid for that dog's lifetime. To be eligible for this document, at least one of the following criteria must apply:
You and your dog were already living in Berlin before the leash law rule came into place (22.07.2016).
You have owned a dog continuously for 3 of the last 5 years without ever having been fined or reported.
If you already have a Berlin-issued dog license (for example, if you have multiple dogs).
If you have an official document which is equivalent to the Berlin dog license.
If you are a licensed veterinarian, trainer, dog hotel owner, or breeder.
If your dog has passed a hunting exam.
If your dog has passed a service dog exam (e.g. police and military dogs).
You can apply for the card by mail with the downloadable form below (available in German only). You will need to provide the following information about your dog:
Breed / mix
Microchip number
Date of birth
Height (measured at the withers / shoulder)
You furthermore need to attach proof that you fulfill the exemption criteria and a recent passport-sized photo of yourself. Once your application has been processed, you will receive a bill for €41-60 depending on the exemption reason (or if you have a listed breed, a variable fee up to €246). After payment has been received, the card will be sent to you.
---
The Dangerous Breed Permit
The Dangerous Breed Permit (Erlaubnis zum Halten eines gefährlichen Hundes) is obligatory for all owners of listed breeds. The Germany-wide listed breeds are:  (American) Pit Bulls, American Staffordshire Terriers, Bullterriers and mixes thereof. Depending on which state you live in, there could be additional restrictions. An overview of breed restrictions across Germany has been provided below.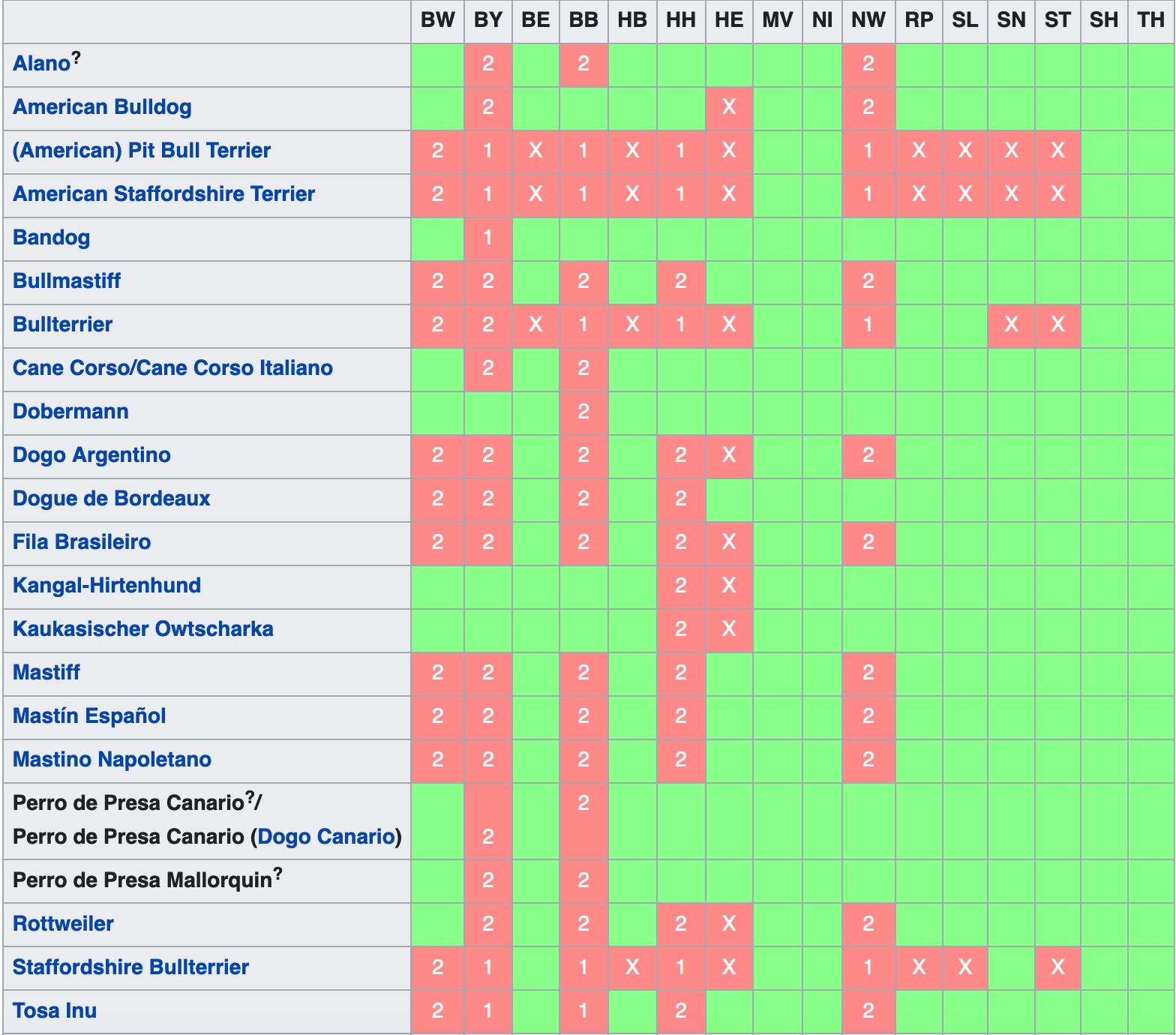 Key
1: The breed is listed as dangerous.
2: Dangerousness is presumed, but can be refuted (via temperament test).
X: The breed is listed as dangerous, there is no distinction between category 1 and category 2. The aforementioned categories are defined differently in each state.
How to Apply for the Dangerous Breed Permit in Berlin
You must fulfill the following requirements:
Be registered as living in Berlin.
Have proof that your dog was acquired legally within Germany.
Acquire the dog license or meet the exemption criteria.
Have your dog temperament tested.
Bring your dog to the Veterinary Inspection Office.
Pay the application fee of €30.
Required Document Checklist
Passport or official ID
Police background check (Führungszeugnis)
Proof of dog-handling competency (Sachkundenachweis/Hundeführerschein)
Temperament test results (your dog must have passed)
Dog liability insurance
Filled out form (which you will receive during your visit)
Sources